Its August now, oh!! how time files!! 6 days have passed..lol
After tomorrow my kids will have their Raya holidays. I have been so busy lately :p will be busier again..lol
This is my first post for Little Thumbs Up event for August. Our host for this month is Yen from Eat your heart out with her theme 'EGGS'
I have to apologize to her for my late post. :p but there will be more to come :D
I would like to thank Alvin from Chef of Sommlier for hosting such wonderful event for Little Thumbs Up in July. We have 109 fabulous posts. Well done Alvin
To view last July posts please come here
时间过的真快. 一转眼就来到8月了. 我家宝贝们后天就放假了. 我呢, 也跟着更忙了 :p
蛋, 在我家很受欢迎哦, 你家呢!! 如果你家也跟我家一样那就快来参与我们的活动吧!!
在此也要谢谢Alvin (Chef of Sommelier)当了个非常棒的7月份'小拇指说好'的主持人. 他的活动带来了109个超极棒贴子. 来这里 瞧瞧吧!
***********************************************************
This is a old time favourite simple dish of my hubby. Will always have this as one of the dish that goes well with plain porridge. It is so delicious and so easy to prepared. All you need is eggs, preserved radish,
spring onion and garlic.
这是我家老贝喜欢的老食谱, 永远吃不腻. 配粥好吃的很. 是道好吃又方便准备的小菜. 用料是蛋, 葱叶, 蒜米和菜脯. 简单吧!!
This is super-quick to prepared. Cook it for a lunch or dinner. For those nights that you wanted a tasty quick dish but not staying too long in the kitchen.
做法非常的简单而超级快. 就像煎蛋饼那样. 首先把所有的材料除了蒜米用竹筷子拌均. 把2大匙的食油倒入个平地锅烧热. 爆香, 再把拌均的蛋液倒入再平地锅摇一摇让蛋糊能平均的煎均. 再把两面煎至焦黄即可.
Crack the eggs into a mixing bowl, mixed in chopped preserved radish and slice spring onion.
Mixed them well and it is ready to cook.
Preserved Radish Omelette
50 g preserved radish, chopped and soaked in water for 2 minutes to reduce the saltiness
1 sprig spring onion, slice
Crack the eggs into a mixing bowl. Beat well with a fork.

Add in preserved radish and slice spring onion.

Put 2 tbsp of cooking oil in small frying pan on a low heat and let it get hot. Add in chopped garlic.

When you smell the aroma of the garlic, pour in the egg mixture and move the pan around to spread them out evenly. When the omelette starts to turn brown underneath, use a spatula to ease around the edges of the omelette. Flip it over to cook on the other side.

When it is brown both side remove the pan from the heat and slide the omelette onto a plate. Slice and serve warm.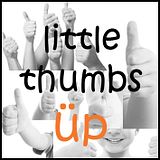 Our Little Thumbs Up event starts on first Tuesday until the last day of the month but only for this month, we are starting on 1st August 2013. Please join us! To join, simply cook or bake any recipe with the theme of the month which is EGG for August 2013 and link with us at this post anytime until 30th Aug 2013. Don't forget your thumbs up or display this badge! And make sure that: (1) Your post must be a current post preferably within Aug 2013 . (2) Please mention Little Thumbs Up in your post and link back to Bake for Happy Kids, my little favourite DIY or/and Yen from Eat your heart out. For more details, please see this.
What after August 2013? Jocerline from Butter. Flour and Me will be the next hostess of Sep 2013 and her theme is PANDAN (screwpine leaf)! All the upcoming ingredient themes and hosts for the forthcoming months are listed at "Little Thumbs Up" side bar of my blog and hope that you can join in the fun of this event. Thumbs up!!
'小拇指说好'活动是在每个月的第一个星期二驱动一直到当月份的最后一天.