Bake Along 是个很轻松, 自在 和好玩的活动. 是三为很棒的女生组成的活动. 她们是Zoe, Lena 和 Joyce. 这活动是让一班爱烘焙的部落格友们参与和互相学习的好机会. 呼吁各位爱烘焙的朋友们都来参与
吧 (^o^)
I enjoy very much participating in this event. Most of all we have a bunch of blogger friends who have the same passion for baking to bake and share together.
Do join us in this event in next Bake Along event.
This is a pick from Zoe. I am glad to bake this because this is in my to bake list for quite sometime:D
If you have read my previous post, you know i am into durian (the king of fruits) This round i am baking Chocolate Eclair but with durian custard filling.
The durian custard filling taste so velvety with buttery soft choux puff and a topping of chocolate ganache..Mmmm it is so ... you imagine it..:p
这是我做了一样我很想做的一种甜点,只是迟迟都没行动. 这次是托
Zoe的活动(Bake Along #37), 跟着她的主题耶克蕾亚泡芙(Chocolate Eclair). 就这样做了这个迟迟没做的耶克蕾亚泡芙.
我的榴莲风还在吹..这次做了榴莲卡士达奶油 :p
柔软的泡芙, 夹着榴莲卡士达奶油馅再淋上一层巧克力酱..Mmmm..可想象
是多享受的
好
味道啊~~
Chocolate Eclair
recipe source: adapted from Ecole de patisserie (chinese version)
菓子学校 (volume 7)
Basic choux puff
Ingredients:
100ml water
45g butter
a pinch of salt
60g plain flour
2 eggs ( you might not use up all of it)
To Do:
In a deep sauce pan boil water, butter and salt.

When it is rolling boil, add in the plain flour all at once. Leave the pan away from the stove. Stir with a whisk till it is all combine and the dough is cooked. You can see the dough leave from the side of the pan when you stired and mixed.

Pour the dough into a mixing bowl and let it cool to your touch.

Using a hand mixer beat in lightly beaten eggs until it is a smooth and sticky dough.

Transfer the dough into a pipping bag fitted with a plain tip.

Piped the dough onto a lined baking tray slight apart from each other. Spray with some water just before sending to bake in the oven.

Baked in a preheated oven at 200c for 30 minutes.
Custard filling:
(i make half of the recipe)
500ml milk
1 vanilla bean (split it with a sharp knife and scrap the bean out of the pod)
6 egg yolks
150g castor sugar
50g low protein flour
To do:
Boil the milk and vanilla bean(including the pods) in a heavy bottom sauce pan.

In a mixing bowl mix yolks, sugar and flour together.

When the milk boils, pour half of the milk into the yolks mixture. Stir to combine with no lumps.

Pour the yolks mixture back into the sauce pan. Bring to the stove and cooked. Stir vigoriously to prevent burnt or lumps. The mixture will thicken gradually. When it is thicken, then it is ready.

Cool the vanilla custard cream. If you want a vanilla custard cream, you can use at this stage. But if you want to make durian custard..please read again..:)
150g of vanilla custard cream
60g durian paste (just sift the durian flesh through a sieve to get the paste)
Mixed the vanilla custard cream and the durian paste together.
Transfer into a pipping bag and piped into the choux puffs.
The choux puffs is cool and ready to be fill in with durian custard cream.

Use a small round tip with a little serrated teeth or just plain will do.

Poke 2 little hole at the bottom of both ends.

Like in picture 3 & 4.

Piped in the durian custard cream and scrapped of the excess with a spatula or a small plastic knife, like in picture 5 & 6.
For chocolate glaze, I make a very simple one.
1/4 cup whipping cream
100-120g cooking chocolate
To Do:
Warm the whipping cream on a double boiler and add in cooking chocolate.

Stir until cooking chocolate is totally dissolved.

Spoon onto the filled choux puff or pour the chocolate glaze into a big enough bowl for you to dipped the top of the choux puff into the chocolate glaze.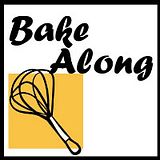 I am sharing this in Bake Along #37, hosted by Zoe of Bake with Happy Kids, Lena of Frozen Wings and Joyce of Kitchen Flavours.
If you are interested please view back their link to see how you can start to join us in the next Bake Along...Enjoy