Sweet with a deep taste, sticky chewy texture, prunes are not only fun to eat but they are highly nutritious. As with other dried fruits, they are available the whole year round.
Dried prune is a good source of soluble fiber.
It normalize sugar level in our body and
helping with
weight loss.
It is highly content phytonutrients, some of which
is function as antioxidant contribute to our health. Again it gives protection to intestine from cancer and lower down cholestrol. Well, does that sounds very good??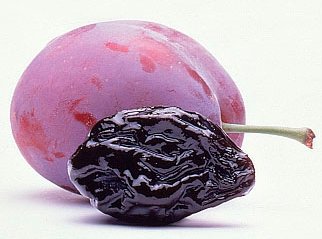 picture taken from renegade prune company.com
香甜的加洲梅子, 当被脱水成干梅子就是
黑枣. 黑枣
带着浓郁的枣香,口感有好. 不单是好吃, 还充满营养价值. 还是一年四季都有的吃!!
营养价值高, 是其中一种非常好的可溶性的纤维. 能帮助保卫大肠, 帮助降低血糖和胆固醇. 还可以减肥呢!!
好了!! 梅子/黑枣的好处讲了, 现在跟大家分享我的加洲梅子蛋糕.
是个蛮简单做的一个蛋糕, 只需要把蛋,糖和盐打发. 加入黑枣拌均. 加入溶化奶油拌均再加入过筛粉料拌均,晒入核桃脆就可以蒸上25分钟了.
Sharing so much about the prunes, this is the main attraction.
A California Prune Cake. This is a steamed cake. I am not sure how will the cake tasted when i first read the recipe. The method of making this cake is very simple, just beat, mix, mix, pour and steamed...DONE.
First beat the eggs,
sugar
and salt till creamy. Add in the blend prunes, i mixed the prunes with some raisins as i have not enough prunes left. Then stir in melted butter and fold in the dry ingredients. Last, sprinkle chopped walnuts, pour into prepared baking tray and steamed.
I make this into 5 small silicone cupcakes mould (its size is 3.5" in diameter and 2" in height) and 1 round 5" round foil tray. I greased and sprinkle flour on all the silicone cupcakes mould and the foil tray. I steamed this in two batch as my wok is a small wok. Each batch i steamed for 25 mniutes.
recipe source: Magic Steamed Cake by Alex Goh
160g prune (i use 80g prune plus 80g raisin)
2 tsp double action baking powder
1 tsp sodium bicarbonate (i use 1/2tsp)
1 tsp cinnamon powder ( i use 1/4 tsp)
some chopped walnuts for garnishing
(some icing sugar and unsweetened cocoa powder)
Whisk A until creamy. Place B into blender and blend it until fine. Add it into A and blend well.

Add in melted butter (C), mix well. Add in sifted D and mixed until well combined.

Add in E and mixed till well-blended.

Pour into greased and floured baking moulds (i use 5 silicone cupcake mould(size of 3.5"x2") and 1 round foil mould (size of 5")

Sprinkle some chopped walnuts on top. ( i omitted this)

Steam for 25 minutes. Let cool, then Serve~
~This is the 5" round foil California Prune Cake. I thought it is a bit plain so i use a hello kitty stencil to decorate the cake. This is how i do the decorating.
Do this decoration when the cake is cold or else the decoration will melted. Turn the cake around, use the bottom of the cake to decoarate. First sift some cocoa powder (unsweetened) on the cake.

Place stencil on the cake (be careful not to move to much or the sifted cocoa powder will smear on the stencil)

Sifted the icing sugar a generous amount of icing sugar onto the stencil.

Carefully use a tooth pick/satay stick, pick one side of the stencil up so you can hold the stencil with you hand. Then pick the whole stencil up right with your hands. Its DONE..nice and pretty.
~用了 'Hello Kitty模板' 做了个hello kitty的可爱小脸在蛋糕上. 这个小装饰蛮简单的.
先让蛋糕冷却. 用蛋糕底部.

先筛上一层薄薄的无甜可可粉.

把 'hello kitty模板' 放在蛋糕上.

再筛上一层厚厚的糖粉在 'hello kitty模板' 上.

用一支小牙签把'模板'的一角挑起,让手可以拿着'模板'的一角. 在小心的把整片'模板'向上拿起. 就完成了!! \(^o^)/