I believe we all have left over food sometimes. Be it we do some switch up to cook into something else or just throw it. I don't like the second way, throw it.... I try my very best to do a switch up to make it into something edible.
Normally when i cook ABC soup, the soup and meat will be very fast moving leaving the veges behind. With the left over veges, the potatoes and the carrots i will keep in the fridge to make my chicken pie fillings later. This round i have some stale bread in the fridge. I am going to make them into Honey crouton. It is a more healthier choice for the kids to take it as a tit-bits or a little snack.
Honey Crouton (蜂密面包干)
recipe source: Carol's 'The second book of baking for the begineers'
Ingredients:
4 pieces of stable bread (i am using my left over Oat meal sandwich loaf)
30 g castor sugar
20 g honey
15 g unsalted butter
15 g dairy whipped cream
a pinch of salt
To do:
Cut the bread into cubes.
Spread them onto a baking tray and baked them at 150C for 15 minutes.
Melt unsalted butter add in castor sugar and stir well.
Add in honey, salt and whipped cream, mixed well.
Add the toasted bread cubes into the above mixture and toss to coat well.
Arrange the coated bread cubes onto a baking tray and bake at 150C for 15 minutes or until it is crispy. When it is cool, store them in a air tight container or a cookies jar. I bet you, your cookies jar will be keep digging by the old kids and the young kids :D :D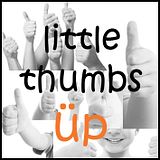 Our Little Thumbs Up event starts on first Tuesday until the last day of the month. Please join us! To join, simply cook or bake any recipe with the theme of the month.
What after November 2013? We are having a Christmas and New Year break and will be back for more thumbs up starting from January 2014.
Alice from I Love. I Cook. I Bake will be the next hostess of Jan 2014 and her theme is CHEESE! All the upcoming ingredient themes and hosts for the forthcoming months are listed at "Little Thumbs Up" side bar of my blog and hope that you can join in the fun of this event. Thumbs up!
******************************