Thanks to Joyce for picking this Linzer Torte/Tart for this round Bake Along. I never knew there is a Linzer Torte/Tart until i saw my Bake Along friends baking theirs.
I went to google for Linzer Torte/Tart recipe and i found this recipe from
here
A Linzertorte (Linzer Torte) has two delicious layers of rich and buttery, nut flavored pastry sandwiched together with preserves. What makes this torte so beautiful is the lattice design of the top crust and while black currant preserves are the traditional filling, raspberry as well as apricot and cranberry are often use in North America.
Read more: here
When i found this Linzer Torte recipe, i started to prepare the ingredients and the torte baking pan. I can't find fresh raspberry in my town neither is the frozen or can type so I decided to make the filling in cranberry. Thanks to Mich who gave me some information that Linzer Torte filling can be any varieties.
Get ready all the ingredients and when i am ready to start...
Oops!! Only to realize that my food processor is not working..sigh!!
I went to my mum's place which is 2-3 minutes drive from my house to borrow hers..:D
Everything goes smoothly, the
crust
dough is done. I gathering the dough into a ball. Divide into 2 pieces, 1 is slightly larger, wrapped the smaller with cling wrap and put into the fridge. Then the other large piece is to roll out and press into the tart baking pans(I use 4 small ones, size is 3 inches). I found the dough is a bit oily though; i went to check the recipe again..OMG! after i checked i found out that i have added 240 grams of butter instead of 195 grams which is too much. Cut my story short..heehee
I did not re-do the crust dough. No doubt it is a bit too soft to work with. Especially weaving the lattice topping part.
**This is how i weave my lattice top. I have label the dough strips with 1,2,3,4,5 and 6.
Do this on a parchment paper or a plastic wrap or a wax paper.
a..Lay strip #2 across #1

b..Lay strip #3 underneath #1

c..Fold bottom half of #3 up (if the piece break, just paste it back)

d..Layer a new strip (#4) on #2 and flip #3 back (it will be on top of #4)
e..This is how it looks when #3 is flipped back

f..Fold upper half of 3 down

g..Lay a new strip (#5) on top of #2 ( it will be on top of #2 and underneath of #3)

h..Fold the right half of #3 and #5 backwards, layer a new strip (#6) on #1 (it will be underneath #4 and #5)
i..This is how it look when #4 and #5 is flipped back.

If it is too soft to flipped on the tart, just put it into fridge for #1-#2 minutes.

j and k..Flipped the lattice top onto the filled tart/torte base. Remove the plastic wrap or parchment paper.

l..Trimmed the edges neatly. DONE!!
**Sorry the lattice topping was not done nicely as the dough crust is a bit too soft to handle..:p But i hope you have an idea how the weave lattice top was done!
Finally my Linzer Tarts is done!!
Do you want to know what is the comments of my hubby and my children about my Linzer Tarts??
Hubby's comment: The crust is buttery, crumbly ...it matches with the filling nicely.. which is not too sweet.. overall ..its lovely!..:)
Shawn's comment: Smells good! He like the nut flavored crust but the cranberry filling is a bit sour to him.. overall ..its so so to him!..:l
Sam's comment: He likes the crust, He loves the crust..He only want the crust.. overall ..its only the crust is good! :)
Seanan's comment: He loves the filling, He loves the crust.. overall ..its good! :D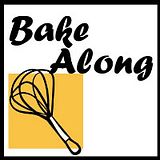 Linzer Torte
recipe source: joy of baking with a little changes
Ingredients:
150g whole almonds (can use blanched almonds)
60g whole
hazelnuts (i replace this with whole almonds)
195g granulate sugar
zest of one lemon
1 tsp ground cinnamon
1/8 tsp ground cloves (i omit this)
1/4 tsp salt
1/2 tsp baking powder
195g cold unsalted butter cut into pieces
2
large
(40g)
egg yolks
1 tsp pure vanilla extract
Icing sugar for dusting
Filling:
I use can cranberry sauce.
(If you are interested to make the raspberry preserves please refer to the link above)
To Do:
Preheat the oven to 170c and position rack in the center of the oven. Place almonds on a baking sheet and bake for about 8-10 minutes or until lightly brown and fragrant. Remove from oven and place on wire rack to cool. Once the almonds are cooled place in a food processor and process, along with 1/2 cup (65g) of flour, until finely ground. Add remaining flour, sugar, lemon zest, ground cinnamon, ground cloves, salt and baking powder and process until evenly combine. Add butter and pulse until the mixture looks like fine crumbs. Add in yolks and vanilla extract and pulse until the dough just begins to come together.
Gather the dough into a ball. Divide it into two pieces, one slightly larger than the other. Wrap the smaller ball in plastic wrap and refrigerate for 1 hour or until firm enough to roll. (I only refrigerate mine for 30 minutes)
Take the larger ball of dough and press it onto the bottom and up the sides of a buttered 9-10 inch (23-25 cm) tart pan or springform pan. (i used 4 small non-stick springform tart pans with the size of 3 inch (7.5 cm) each.) I am press the dough about 2 cm up the sides of the pan.
Spread the filling over the bottom of the crust. Cover with plastic wrap and place in the refrigerator. Once the smaller dough is firm, remove from the fridge and roll it between two sheets of wax paper into the size of the tart pan you are using. Using a pastry wheel or pizza cutter, cut the pastry into strips. (please refer to the top tutorial for how to weave the lattice top)
Bake the tarts in a preheated 177c oven for about 30-35 minutes or until pastry is golden brown and set. Let the torte cool on a wire rack before unmoulding.
**I personally felt that the tart is lovely served warm with a dollop of whipped cream. I did not dust the top of the torte with icing sugar.
**This torte will keep for a few days at room temperature or in the refrigerator for about a week. It can also be frozen.